Disclaimer: This post is For Adults Only!
While this blog post is family-friendly, links included may take you to pictures that are potentially inappropriate or offensive to some readers.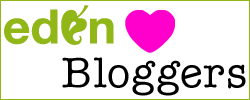 EdenFantasys is highly blogger friendly! Do you have a blog and looking for a way to earn gift cards for great gifts to yourself or significant other? Or gift cards to use for a giveaway to show your readers your appreciation of their support?
Look no further! EdenFantasys is always looking for great bloggers to help spread the word of their website. EdenFantasys is an online sex toy shop for adults. But don't fear as there are plenty of PG products for those that wish to keep it family + work friendly, such as candle collections, massage oils + lotions, bath + beauty products and even clothing.
I have been an Eden Blogger since October 2011 and have loved sharing great deals + reviews with you all. In return, I have used my gift cards for batteries (I stocked up before Christmas for the kids toys), candles and plenty of bath + beauty products including makeup.
There are four types of blogger programs that you can choose to apply for:
1. Product Reviews Receive one product for free each month in exchange for a review + two links back to EdenFantasys website. You can choose from a variety of products, including products for those with PG blogs!
2. Sponsored Posts Earn gift cards for writing positive posts about EdenFantasys about twice a month.
3. Eden Affiliate Program Make sales online + offline, open your own personal store and earn 20% commission on sales!
4. Banner + Text Ads Get paid in check or PayPal by placing a banner (variety to choose from) or text link to you blog.
If this sounds of interest to you, visit Eden Loves Bloggers for more details and how to apply to become an Eden Blogger!
Disclaimer: EdenFantasys, an online retailer of sex toys, provided me with a gift card in exchange for this post. All opinions are my own.